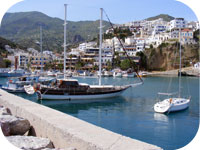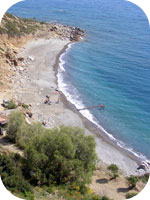 Agia Galini is a charming fishing village on the south coast of Crete about one hour's drive from the main airport in Iraklio. During the summer, the village is a bustling little tourist resort with many bars, tavernas, cafes and shops. The beach is a five minute walk from the centre of town. For those wishing to venture further afield, there are daily cruises to the beautiful beaches of Agios Giorgos, Agios Pavlos and Preveli (among others).
In winter, the village becomes more sedate, but there are still restaurants, kafeneions and bars open.
Spring is perhaps the most beautiful time of year with the arrival of wild flowers such as anenomies, poppies and galdioli to name but a few.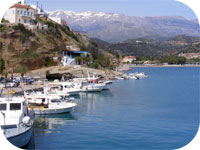 As well as being a wonderful place to stay in its own right, Agia Galini is an excellent base for exploring the island with daily buses to Iraklio, Rethymno, Matala, Plakias etc. There are also many sites of archaeological and historic interest nearby, such as Gortys and Phaistos.